in a state of excitement; thrilled.
Excited is a feeling associated with met needs. It means being in a state of excitement; thrilled. Among the many variations of excited we have: amazed, ardent, aroused, dazzled, energetic, enlivened, enthusiastic, exuberant, invigorated, lively, passionate, surprised, vibrant.
Excited is a short lived emotion, like most of the feeling listed above. If I were to describe it as a bodily sensation, I would say that a ray of positive energy is travelling through my body to wake up a newfound vitality.
Example: He said he is excited to go to Paris.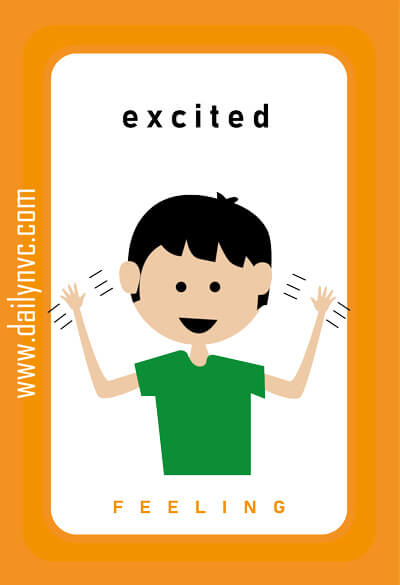 You can download this card (Right-click > Save image as...) and use it for free, or you can support my work and buy the whole deck (34 cards) of feelings here: https://www.printerstudio.com/sell/designs/feeling.html
The size of the cards is 44mm X 67mm (1.73" x 2.64").